ĐẮK LẮK — Nearly two weeks have passed since the particularly devastating heavy downpour and the floods that followed in the Central Highlands.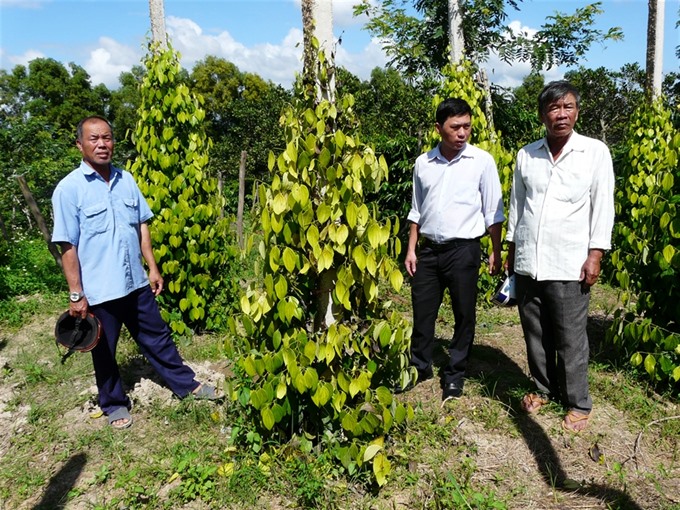 Pepper plants wither after being submerged in floodwater in Trần Quốc Tuấn's fields in Ea Hu Commune, Đắk Lắk Province. – Photo DaiDoanKet.vn
Hundreds of households in Đắk Lắk Province, however, still remain on edge since the floodwaters have put their pepper fields in jeopardy.
Nguyễn Văn Sáu, a farmer in Quỳnh Ngọc 1 Village, Ea Na Commune, Krông Ana District, stared grimly at his 2.5ha fields, which consisted of some 1,800 pepper and 1,700 coffee plants.
"Though the water retreated days ago, the peppers are extremely sensitive and can stay just one day submerged in water, following which the roots and eventually the plants will die. There's nothing I can do to salvage the situation," he said worriedly.
Another farmer, Trần Quốc Tuấn, in Ea Hu Village, Cư Kuin District, shared a similar plight.
His 5ha field of peppers and coffee near the hydro-dam suffered tremendously; the plants' leaves turned yellow and withered.
"My family mortgaged our 'red book' (land use certificate) to the bank for a loan of VNĐ100 million (US$4,500) to invest in the pepper fields. Seeing that the price of pepper was steadily rising over the last few years, we decided to grow 500 pepper plants. This year, when we were just about to harvest the crop, the floods arrived and now the plants are slowly dying," Tuấn said.
His entire family's living expenses, school fee for his children and bank payments all depended on the pepper fields. Now, with 200 dead plants and the rest likely to follow suit, his struggle to make ends meet will become even more difficult.
Phạm Ngọc A, head of Village 1, Ea Hu Commune, said the floods have caused irreparable damage to people's crops. Some 12ha of pepper and 5ha of rice are perishing, and this year's yield from 5ha of coffee will reduce considerably. In addition, the rising water has washed away seven aquaculture farms that farmers intended to harvest and sell the produce in the upcoming Lunar New Year.
Like Tuấn, since most locals borrowed money from bank to invest in production, their future is becoming increasingly precarious.
Phạm Thanh Hoằng, chairman of the Ea Hu Commune People's Committee, claimed that commune-wide, 100ha of coffee, pepper, crops and aquaculture farms were impacted by the floods, with Village 1 and 2 being the most affected.
Local authorities are preparing a detailed report of damage to submit to the higher-ups.
District-wide, some 350 hectares of crops were reportedly damaged, plus 4km of irrigation canals and ditches and five dams were swept away in the floods, Nguyễn Năng Chung, chairman of Cư Kuin District, said.
The district's People's Committee has allocated VNĐ300 million ($13,400) to support affected farming households and direct local authorities to step up information dissemination on choosing suitable crops to avoid preventable losses should floods occur in the near future, cautioning people not to get caught up in the pepper-growing frenzy.
According to Đắk Lắk Province's Steering Committee for Natural Disaster Prevention and Control, 5,500ha of crop in Ea Kar District have been affected by the floods, of which only 520ha was used to grown rice, while the remaining majority was used to grow peppers, coffee and other types of crops. — VNS